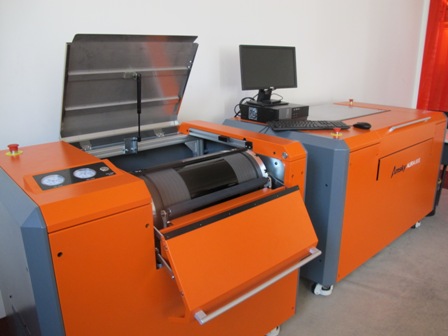 CTP Aura machines are ideal for both flexo and letterpress plates, film-based or steel-based. Thanks to their 4000 DPI resolution, they guarantee HD quality. You will not have to use an entire plate, as the machine is able to support plates as small as 10×10 cm. A life-changing solution for all those who need their production process to be quick and versatile.
CTP Aura machines are available in three formats according to plate size:
• 330×430 mm – 400 Model NEW
• 430×635 mm – 600 Model
• 635×763 mm – 800 Model
The 4000 DPI resolution enables to produce both film/steel-based letterpress plates and flexo plates. The curve-and-pin system results in easy, quick external mounting of the plate, which does not need to be manually secured to the drum. The same system can be used to place dry-offset steel-based plates.
One of the greatest advantages of CTP Aura machines is that it is not necessary to mount whole-size plates. The machines can support a minimum plate size of 10×10 cm for film-based plates and 30×30 cm for steel-based plates. The drum is automatically balanced according to plate size and thickness and maintains the highest writing speed. This aspect is crucial for printers, who will no longer need to carry out multiple tasks in order to image a whole-size plate and will be able to work at full speed while avoiding waste of material by working on smaller plates.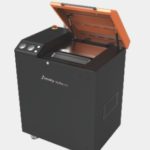 Big and small plates can be placed with no particular adjustment by the operator as the sensors positioned on the drum automatically detect plate edges.
CTP Aura machines are the best possible solutions for those seeking to achieve HD quality without complicating the production process. The machines are very cost-efficient and require very little management and maintenance costs in time.
Installation of the machines by Ditom's specialized technicians includes technical support in the setting, production and result control of any steel/polyester-based letterpress plate and water/solvent based flexo plate.
Thanks to a specific training, the operator will be able to autonomously manage the calibration of materials and printing supports with no need of – often expensive – technical support by the manufacturer. CTP Aura machines are a simple, versatile solution for printers wishing to work autonomously, especially those who are already used to finding tailored solutions for their own production every day.
You are welcome to come over and see how easy to operate our machines are! You can also send us a file for a free test that will enable you to ascertain the quality yourself.
If you would like to receive more information, please contact us at customercare@ditom.it